New Service: Luxury Vans in Paris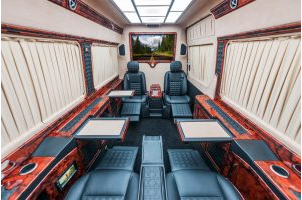 Imagine a perfect day in Paris. Earlier this morning, your chauffeur came to pick you up at the airport, and now you are enjoying a smooth drive to the office where your meeting is being held. The presentation you will deliver there will be a success. You know it because you have reviewed it one last time on the in-car screen.
Now is your time to relax and recline on the plush leather seats while watching the city go by. You are travelling inside a luxury van, enjoying a rare moment of peace. Later on, you will watch a movie while sipping a glass of wine in the comfort and privacy of your own car.
For those seeking exceptional moments as well as mobility and efficiency, Güt & Berg Limousines is pleased to present its new chauffeured service on luxury vans Mercedes-Benz Sprinters and Volkswagen Crafters.
These luxury vans are designed to offer extraordinary comfort and convenience while being ideally suited to organize a corporate tour, hold meetings while driving, screen a movie or simply travel in style around Paris and surrounding areas!
To treat yourself to this new service, please contact Güt & Berg Limousines at resa@gblimousines.fr